Building Customer Profiles with Persona Story Mapping
Submitted by

jordan

on Wed, 11/29/2017 - 08:00
Buyer Persona cards are dead—long live Persona Story Maps!
It's time you level up with Persona Story Maps and bring your consumers to life in a more personal way. These 2-D live documents allow you to surface and document consumers emotional and physical journey as they pass through your sales funnel.
With their mental condition and physical touch points before you, you and your team can then strategize every step of their journey how your content and digital channels will be used to attract, retain, and guide them through your funnel at a quicker rate.
Since using the customer profiles we've built with these 2-D maps, our clients have been able to unify their sales and marketing teams around a multidimensional perspective of the customer's journey and smooth their conversion path.
Today, I want to share with you how we've built customer profiles with Persona Story Mapping, so you too can begin to bridge gaps with your consumers and create the conversations that answer, inform, and inspire them to enter and remain in your sales funnel for years to come.
Shall we dig deeper?  
How Do Persona Story Maps Help My Business?
Businesses are more aware than ever that if they are to attract and retain consumers, they must build conversations around the consumer's pain and clearly express, through unceasing dialogue, how the product or service can heal it.
Persona story maps help you build meaningful conversations, for they capture and surface the motivators, fears and hurdles your consumers face as they pass through each phase of their buying journey.
The 2-D maps run horizontally and vertically, giving you and your team a holistic view of who your consumer is, how they think, what they feel, and how/why they make purchasing decisions.
With this information before you, your team can hold dynamic discussions around your consumers' needs and create marketing strategies that boil down to the single goal of healing the consumer's pain, which is every consumer's main focus.
Persona Story Maps also:
Help you segment your messaging and target a wider range of buyer personas, allowing you to attract more qualified leads and close them into customers.
Unify understanding of your consumers' needs across all strategic business units.
Scope new personas as you refine your segmentation for lead and demand generations strategies.
If you want to turn more leads into customers and customers into evangelists, you need to know what makes them tick. Persona story maps can help you in that regard!
How Do Persona Story Maps Shape My Other Marketing Strategies?
Persona Story Maps are the first step to building consumer-centric, goal-oriented content marketing and digital marketing strategies.
Let us show you what we mean:
Content Strategy

Facet's Content Strategy Map
Content marketing, when done effectively, should build dynamic conversations around the consumer's pain points and help them see the value in your products or services. Each time you present them with compelling, engaging content that taps into their pain and tells them why your product or service is the solution, it should nudge them further down the sales funnel.
A Persona Story Map paints a picture of the consumer—their fears, motivators, and hurdles—while a content strategy map gives you a plan for how your content assets are going to assuage their fears, remove barriers, and leverage motivators so you can move business initiatives forward.
The two work in tandem.
As you begin to drum up new content ideas, you'll first refer to your persona story map to see which persona you want to focus on. Then, you'll look to your content strategy map to see which service offering is best suited for him or her. Next, you'll scan down your map and choose a story (piece of content) that best speaks to their pain and the phase of the buying journey they are in.  Once you've selected your story, you will determine how you will deliver the value of your product or service and create conversion paths you want to take them through.
Example: The First-Time Home Buyer
You're a real estate agency. After producing your Persona Story Map, you find that one of your personas is a male in his early 30s who wants to purchase his first home with his wife. Between the two, they have a yearly income of $130,000 before taxes.
He has a general idea of the location he'd like the home to be in, the features he wants the home to have, and how much he'd like the home to cost. With these in mind, he starts his research. He stumbles upon your website. He is now in the Discovery Phase.
You know his biggest worry might be he can't afford a home. Some questions that will likely float through his mind are: Can I afford a home? Is it better to rent or buy? How much a down payment do I need? Is financing available? If so, how do I pay it back without having a high monthly interest?
To tie this persona into your content strategy map, your content would be focused on assuaging his fears about homeownership by creating a variety of articles, including renting vs. owning, the pros and cons of financing a home, and steps he and others like him can take to make homeownership a reality.
Then, as a means to convert this potential client, you would provide a form at the end of each article, where you would offer a consultation or additional information in exchange for his email address. From there you can begin to nurture that persona to the point of sales-readiness by either consulting with him or sending rounds of emails/newsletters around first-time home buying.  
Digital Strategy

Facet's Digital Strategy Map
Digital strategy maps are also built to span each phase of the customer's journey. As you brainstorm digital strategies for your business (e.g. social media, PPC, email marketing), you will review your persona story map to see which personas use those digital channels, then hold discussions around how you plan to reach them through those channels.  
Example: The Sophomore in High School
For example, let's say your persona is a sophomore in high school who is influenced by her friends and uses social media to both socialize and stay atop of trends—beauty and fashion being two.
Your business is a nail salon, and you specialize in nail art. If you want to tap into this sophomore's feelings, a digital strategy would be to use social media to target her locally. But since the sophomore hasn't been to or heard of your nail salon before, this puts her in the Exposure/Raw Leads phase of engaging with your business on the social media platform.
You can tap into her feelings of "fear of missing out" to make sure she is keeping up with her classmates by developing and pushing a social media advertising campaign that shows teenagers her age wearing your latest nail art trends.
And because you know this particular persona is low on money, you can use the comment section of your posts to display special offers and discounts.  Fear of missing out on a major life event is translated into fear of missing out on a great deal—and that empathy drives conversion.  
How To Set Up A Persona Story Map

A look at our extensive persona story map
Step 1. Collect Qualitative and Quantitative Research
Before you set up a persona story map, you will need to gather both qualitative and quantitative research to help bring your personas to life in a real, personal way. This means gathering analytics, customer surveys, and interviews, and consulting with members of your staff who have the most contact with consumers.
If you don't have any qualitative or quantitative market research on your buyer personas, never fear! Persona story maps will allow you to map out the persona based on your intuition and the input from your stakeholders. Just be sure to validate these learnings through your marketing and sales campaigns and update the document over time.  
Step 2. Set up the Map
Create a Persona Story Map with a Story Mapping SaaS solution, such as Stories On Board. It is helpful to title it with your company's name, followed by "Persona Story Map." As you build out other maps (e.g. business strategy map, content strategy maps), this will make it easy for any member of your team to find it.
Now that your map has been titled and the initial steps of creating the bare surface have been completed, start building a legend for ease of reference for your team.

Blue Cards > Persona
Yellow Card > Characteristics & Buying Phases
White cards > Touch Points
Pink > Motivators
Purple > Demotivators
Red > Hurdles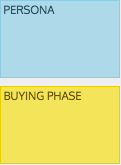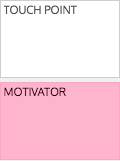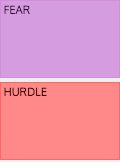 A simple legend reflecting the color-coding system
With your legend built, start by creating a blue card that defines who your persona is. Rather than a broad label, you will want to narrow down your focus to the persona's role. For example, "real estate agents" or "non-profit board member". As you can see, these personas define a role within an organization—a job description, not a company type. If you have more than one persona, you will want to create separate blue cards for each.

A snapshot of our buyer personas
Next, create a set of yellow cards—moving horizontally—below each persona. These will set the stage for the types of questions you and your team should ask yourselves to get to the heart of your persona's characteristics and buying phases.
For our persona story map, we use the following yellow cards to capture our personas characteristics and buying phases:

Characteristics: What differentiates this persona from others?
Risks: What risks are involved in working with this persona?
Next Best Alternatives: What is the persona comparing your product or service to?
Opportunity: How do you quantify/qualify the persona?
Exposure: What problems motivate the persona to find you?
Discovery: How does the persona use your product or service to solve their problem?
Consideration: How does the persona decide on your product or service?  
Conversion: What outlets does the persona have to convert?
Engagement: How do you close the deal?
Delivery: How does the persona interact with delivery?
Relationship: How do you keep your persona in the funnel?
Advocacy: How does the persona share their experience?

Phases of the persona's buyer journey
Step 3. Document What You Know About Your Personas
This is where your research will prove most useful, as you'll be breaking down your personas in depth.
Based on the insights you've gathered from qualitative and quantitative research, move down each yellow card in a vertical fashion, creating white cards that explicitly define the persona's characteristics or buying journey. Let's say your persona is a stay-at-home mother. How we would narrow in on her characteristics and buying journey is to ask ourselves some questions, like:

How many kids does she have? How old are they?
How old is she?
What is her income level?
What is her living situation? (e.g. house, apartment, etc)
Where does she shop?
What does she do on her off time?
Who are the influencers in her life? (e.g. family, friends, etc)
What is her educational background?
What media types does she consume?
How does she decide on products or services?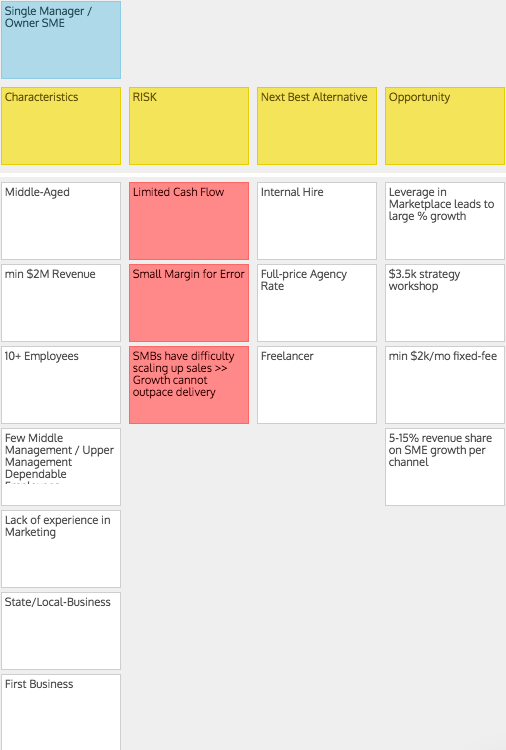 In this example, we provide a partial view of the characteristics of our buyer persona
As you build out your persona's features using cards, you will notice that they all start out as white. But as you create each one, you should be color coding them accordingly.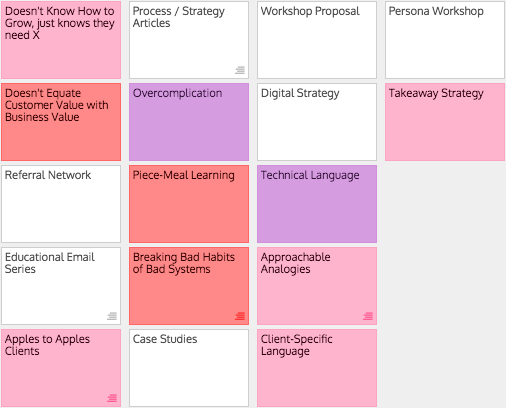 How color coding will look on the map
To assist with color coding, think about the following:

What touch points do we have with this persona? (white cards)
What motivates this persona to move to the next buying phase? (pink cards)
What demotivates this persona from moving to the next buying phase? (purple cards)
What educational or technological hurdles do you face with this persona at this buying phase? (red cards)

By answering these and other pointed questions—and color coding along the way— you should gain a comprehensive view of the state of that persona's mental and physical condition while engaging with your company. You should be able to image a very specific person in your mind. In this way, you'll know exactly who you will be directing your messaging toward with your content marketing strategies and how you'll attract them with your digital channels.
Step 4. Present Persona Story Maps to Your Team
Building persona story maps in a silo won't work, your organization needs to adopt the live documents wholly.
Present these persona story maps to them and educate them on the simple concepts. Encourage them to do a teardown, and argue with what you've built (don't take it personally!) and try to learn how their perspective on that persona informs your definition of them in that phase.
You may also want to consider your team's feedback as Negative Traits, which means characteristics where you say a Persona is "NOT X".
This can help you to get a clear picture of what your sales and marketing team looks for in prospective customers to more easily talk with them about their needs.
Step 5. Revise Your Persona Story Map Based on Team/Stakeholder Feedback
As you and your team/stakeholders discuss the persona story map you've built, you might find that the perspective of the persona's characteristics and buying journey has changed. If so, take the feedback you've all agreed upon and make revisions to the map accordingly.
So you don't lose the original map, we encourage you to export the Persona Story Map to XLS or PNG for historical records. You can achieve this by clicking the ellipsis (...) symbol and selecting "Export & Print", then clicking "Export to PNG image file", followed by "Export."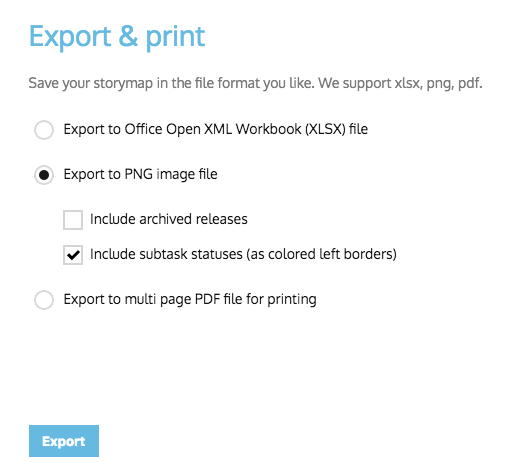 How to save a copy of your original Persona Story Map, before revisions are made
While referencing the original map, you're now free to make updates that better depict your persona and their journey.
Now that you've finalized your map, you can then begin to use it to fill out and plan your digital strategies and content strategies.  
Step 6. Schedule Persona Story Map Updates
No matter your business, your customers will constantly evolve, which means your Persona Story Map should evolve as well.
As you learn more about your personas—through analytics, customer surveys and interviews, and feedback from team members who work closely with consumers—you will need to iteratively update this map and any other maps tied to it (e.g. digital strategy map, content strategy map, etc). We like to make quarterly updates.
That's it for building customer profiles with Persona Story Mapping. What best practices do you follow to document traits and characteristics for your customers? Leave a note in the comments.
Get Help Mapping Your Customer Profiles. Waste Less Time.