How to Do Real Estate Marketing Automation with Mautic
Submitted by

kevin

on Wed, 10/12/2016 - 11:49
You have a beautiful website. You post quality content to your social media platforms. You keep a comprehensive contact list. You're on top of your game and doing a lot of things right.
But you keep hitting a wall, and you're spending a lot of time hitting the same wall over and over again.
Your contact list isn't growing and neither is your sales pipeline. Your website isn't producing leads. You're plateauing.
This is something real estate agencies and private realtors face daily.
Obviously people are selling and buying houses, but for some reason you're missing out on them. It's time real estate agencies start harnessing the power of marketing automation, and fortunately there is a way for them to do it with little investment.
Why is Marketing Automation Important for Real Estate Marketing?
Computers, smartphones, tablets, laptops, watches — the list goes on and on. People around the world are finding as many ways to digitize their life as they can. They want to communicate on their devices and they want to be communicated with on their devices. For this very reason, every business must be readily available online.
The problem with being so accessible online is the amount of effort it takes to build a complete online presence. Most real estate agencies and private realtors do not have the time to do this.
However, with marketing automation realtors can:
Reduce marketing and advertising staffing costs
Improve accountability for sales and marketing
Target potential leads from multiple channels
Save significant time following up with leads — you can schedule emails and create nurture campaigns
See what's working and what's not working
Take the guesswork out of following up with leads
Keep your CRM up to date
Be more efficient and more effective.
How Can Marketing Automation Help Realtors?
The benefits mentioned above apply to every small business, including real estate agencies, but realtors should be aware of the specific benefits marketing automation provides them.
One of these benefits is the elevation of local SEO rankings. Many realtors and agencies operate in small communities, cities or regions, and they don't need to target leads halfway around the world. This means good local SEO is that much more important.
Practical Example: Use marketing automation to increase social signals with automated social media profiles and content segmentation. Or, increase the relevancy of your content by using rich information, such as user-submitted property reviews.
Another major benefit of automation is quick contact with leads. Instead of gaining leads and waiting days or weeks before contacting them, you can set up automated workflows.
Practical Example: When you acquire a phone number or email from a lead,  automatically send them a personalized text or email that shows them some of your most recent real estate listings in their area.
With automation, you can also track how leads are using your website.
Practical Example: If a site visitor views listings in a very specific area, or listings for a specific type of property,  automatically send them an email specific to their needs.
While the benefits of marketing automation are clear, realtors remain hesitant to dive into a solution because of the steep costs associated with most platforms.
It's understandable. Why take on a ton of overhead before knowing for sure this strategy is a good one for your business?
Fortunately, Mautic offers an opportunity for realtors to test the marketing automation waters with little investment.
Let's Chat About Wasting Less Time
What is Mautic?
Mautic is an open-source marketing automation platform. But that oversimplifies and diminishes the power it provides to users. So let's start from the beginning.
As a user, you first either download the software onto your own site or open a free hosted account. Once it's set up, which is a simple three-step process, you can utilize the software in six different ways and you can powerfully connect those six methods to create comprehensive automated marketing.
1. Mautic offers contact management.
The software tracks known and anonymous contacts that visit your site, interact with you on social media and contact you through email.
The in-depth tracking shows you specific interests, time spent on the site and page views, among other indicators. The system then allows you to nurture these contacts through a point system so you know who to prioritize and how and when to contact leads.
2. Mautic offers social media marketing.

Built into your social media campaigns, you can have active social network marketing. In other words, you will be able to build a leads list based off of keywords, hashtags, social mentions and more.
The software also allows you to better listen to your target audience and interact with them directly and personally.
3. Mautic offers email marketing.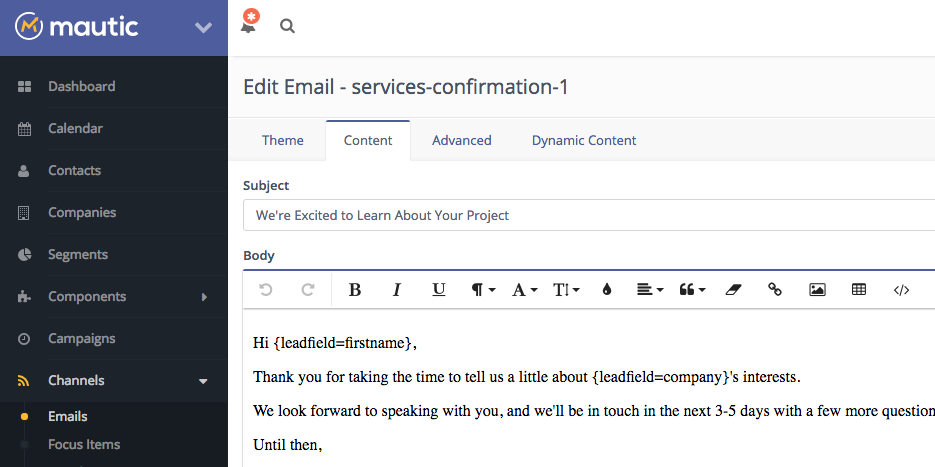 Not only can you use Mautic's platform for email, but you can also integrate other software solutions you already have in place. Their platform then strengthens these other solutions by providing you with email analytics, limitless mass-email marketing capabilities, and personalized follow-up emails.
4. Mautic offers a customizable form builder.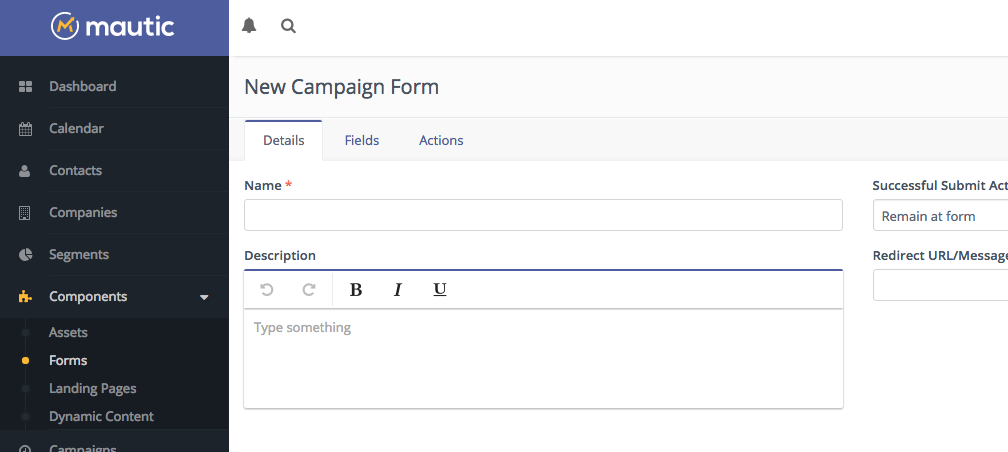 You can use forms to market an upcoming open-house or a special event to promote your agency. You can also ensure increased campaign success by collecting valuable lead information, building segments and providing valuable content to potential clients.
5. Mautic offers comprehensive analytics.

You will be able to see exactly how your campaigns are doing. You'll know what is working and what isn't resonating with your target audience.
6. Mautic offers more systematic and automated campaign management.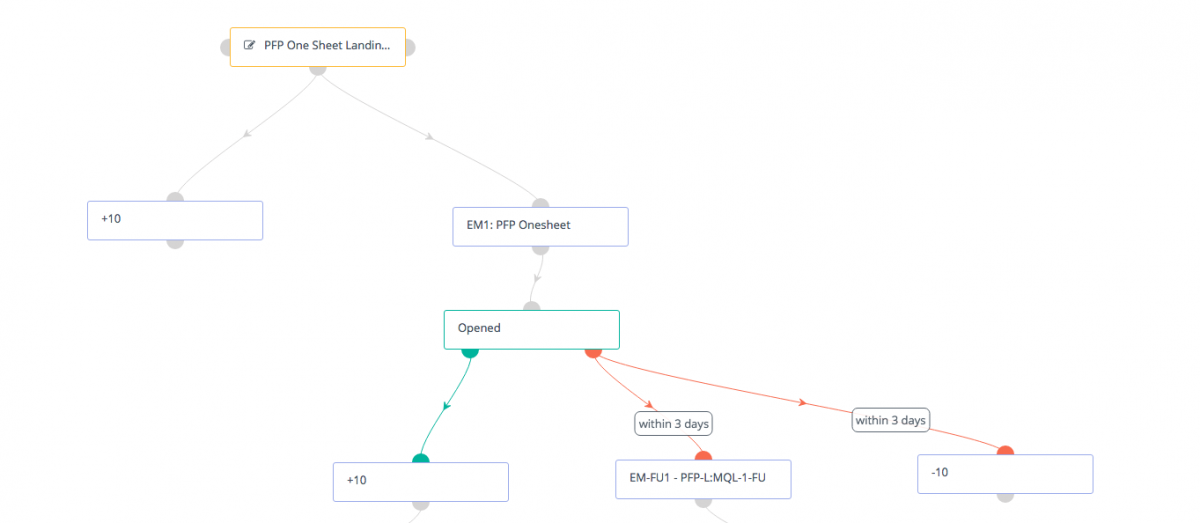 No longer will you build a campaign and allow it to be stagnant. With Mautic you also design the next steps for your leads to follow. This allows you to slowly gain valuable information from and about contacts, as well as nurturing your relationship with them and moving them through the sales funnel.
Why Is Mautic A Great Marketing Solution for Real Estate?
The most exciting news for realtors is that Mautic is free and open-source.
For agencies just starting out and for realtors on a tight budget, this is a perfect solution.
You don't have to worry about making a big investment in software that you're unsure about. You don't have to worry about only recouping your costs months down the road.
You can breath a sigh of relief. Something finally costs you nothing.
And while free is music to the ears of those who are creating a budget, you can also rejoice in the fact you will be able to visualize the monetary boost this software provides.
You can see new leads coming in and converting. You can create client loyalty through improved tracking and more personalized engagement.
Oh, and don't worry. It's not a 'freemium' deal where you only get the bare minimum and then have to pay to receive the really useful aspects of the software. It's everything you need, upfront and simple to learn and use.
This last part actually needs to be emphasized: The user interface doesn't require an advanced degree to be interpreted and fiddled with.
It will walk you through the steps to ensure you have a comprehensive understanding of how to utilize the software to its fullest potential.
How Mautic Can Be Utilized In The Real Estate Industry?
So what exactly would it look like for someone in the real estate industry?
Let's say a potential client searches on Google for a nearby real estate agency. Your agency pops up as a result, they visit your website, and browse around. Mautic will first register them as a new visitor — just an IP address.
As they browse, they end up on one of your Mautic-created landing pages. Through its call-to-action, they identify themselves on a form. Mautic adds this information to your contact list and now they're a known visitor.
If you have a campaign created, Mautic can automatically send them an email with information about property listings in their area and an encouragement to get in contact with you.
You can set up your campaign to address every possible user action.
If they open the email, Mautic will know to take one step, and if they don't, Mautic will know to take another step. This campaign can be as extensive or brief as you want, and you can adjust it over time to create more and more personal interactions.
The really beautiful aspect, especially for those in real estate, is Mautic also prioritizes these contacts for you. Depending on the various actions a contact takes, they gain or lose points.
The more points they have, the more ready they are to move through the sales funnel and onto being directly contacted for a home viewing or an office visit to discuss their housing needs.
Mautic provides marketing automation for realtors that is personal and effective.
No more cold-calling, no more bothering leads who aren't interested. You will know who is ready to buy or sell their house and you'll be the realtor who is prepared to address their needs.