How to Craft Agile Business Plans with Business Strategy Maps
Submitted by

jordan

on Wed, 08/09/2017 - 10:22
Today, I want to share with you how our agile business planning works, so you too may find cohesion across your strategic business units, and unify your team around the true priorities for your business in an agile fashion.
As Facet has grown, we've found the massive mountain of work in front of us to be quite daunting—it seems like each time we get something right, three more tasks spring up in its place! Just a year ago, we faced an age-old question that comes with scaling the business: How can we effectively keep track of our business strategies, but also readily consider the wide scope and far-reaching effects of selecting new areas of the business to focus on each quarter?
Fast forward to 2017, now we plan our business across in 2-D business strategy maps quarterly. Instead of a flat business plan, we get a live document. We iteratively group strategies in a release for each quarter, and then link them to various related tasks for delivery in JIRA.
The results and interaction of stakeholders are quite exciting (if you're a business nerd).
Let's dive in.
How Is Business Strategy Mapping Valuable To A Business?
Regardless of your size or industry, drafting and adhering to a business strategy may, by far, be one of the greatest challenges executives face—there is a reason only one-third of businesses follow their documented business strategy closely.
Documented business strategies look and sound good on paper, but that's where most strategies remain: on paper. The struggle most face is translating the wide scope of strategic goals into achievable tasks.
Just think back to when you last thumbed through your own business strategy. How far along did you get before you decided to cast it aside and start fighting fires?
A business strategy written in long form, with its extensive and complex nature, makes it hard for executive teams to keep all the details and the implementation plan in focus. When executives are faced with fighting fires or day-to-day operations, it's difficult to get clarity from glancing back at a business plan.
With a 2-D business strategy map, the visual layout of the map lends itself to where executives can direct their focus. Moreover, a written business plan usually projects so far ahead, the business strategies become stale and dated. Executive teams carrying out these old campaigns end up falling behind in marketplace evolution and misfiring at consumers whose behaviors have changed.
Business strategy maps mitigate these risks.
These 2-D maps give executive teams a visual reference of your business plans. Your strategies become alive, and you can see across the map how each one of your business strategies will be deployed, what business initiatives they are tied to, and what results should occur along the way.
In summary, Business Strategy Maps enable your business to:
House current and future strategic business initiatives/improvements.
Visualize all of the different fronts where you are trying to make improvements.
Build your business process in increments quarter-to-quarter, allowing you to iteratively scope revisions to your business plans so you can quickly adjust to changes in market conditions and consumer behavior.
See where your business's pain points are.
Create dynamic conversations around the flow of the business and any competing priorities.
Connect your high-level business strategy to implementation.
Unify stakeholders and staff around the focus for the quarter.
How To Build A Business Strategy Map
Business strategy maps are easy to set up, but the hard work starts when you and your executive team discuss the various facets of your business. As you all dig in with meaningful dialogue about initiatives and priorities, you'll find what you need for a successful business strategy will surface organically.
With that, let's start building:

Facet's Business Strategy Map
Step 1. Set Up the Map
1. Start with a Story Mapping SaaS solution, such as StoriesOnBoard (we'll reference this solution for the rest of the how-to).
2. Create a Business Strategy Map, and lay out the initial foundation for the divisions of your business or strategic business units, using blue cards—each moving across the map horizontally.

Our list of business units seen in two-level board view.
3. We name our strategic business units based on the active form of the company goal, e.g. "Find Customers" vs. "Prospecting". We find this more actively drives conversations among business experts and staff who might not be familiar with our specific terminology.
Step 2. Document Your Current Business Strategy
When just getting started, you'll want to canvas your current business strategies and put them on the map.
1. Create a release called Current for any ongoing and repeatable business strategies. This will be a starting point of reference to show how your strategies differ vs. new releases. When we create a Business Strategy Map for a client, we place all their current business strategies into their own release, or into "Current," so we know which are active.
2. Review and document functions or responsibilities of each business unit, using yellow cards.  These cards will also run horizontally, and they should be aligned under each division of your business or strategic business unit, which are represented by blue cards.
a. For example, Sales might contain `Lead Generation`, `Pre-Sales`, `Sales Meetings`, `Proposals`, `Contracts`, etc.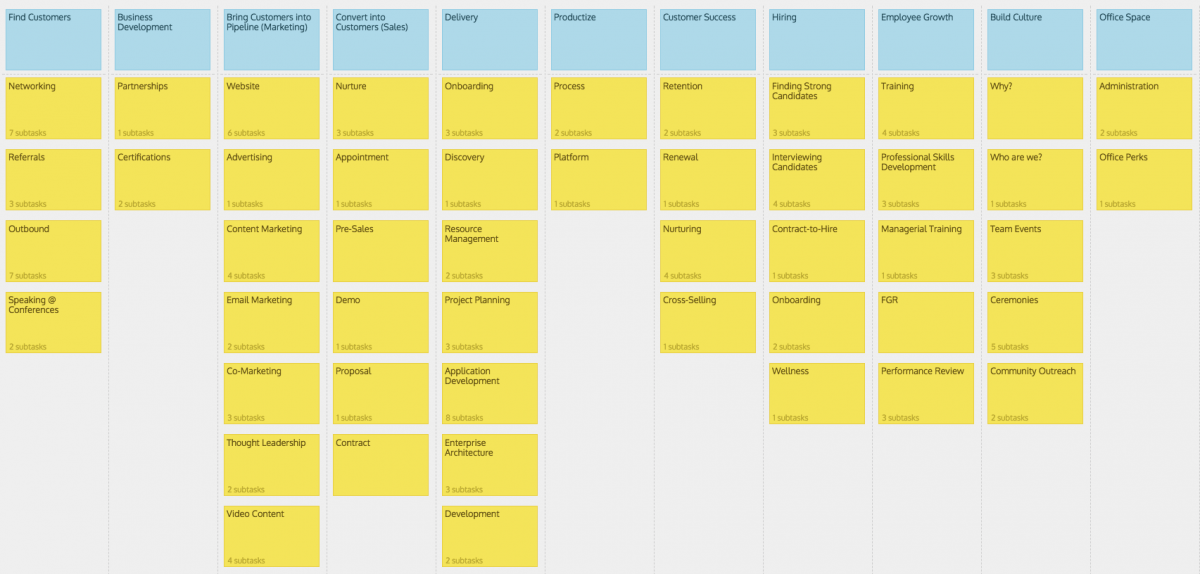 Seen in two-level board view, the blue cards represent your business initiatives and the divisions of your business to which they're tied. The yellow cards represent the marketing engines (e.g. networking or website) you'll use to carry them out.
Get Help Mapping Your Business Strategy. Waste Less Time.
Step 3. Groom New Ideas and Business Strategies
1. With this organization in place, you can start to brainstorm new business strategies for your business, using white cards that will rest vertically under each marketing engine. There is no guiding structure here. You can be as detailed or as high-level as you would like. (Refining the business map will come later as you plan execution.)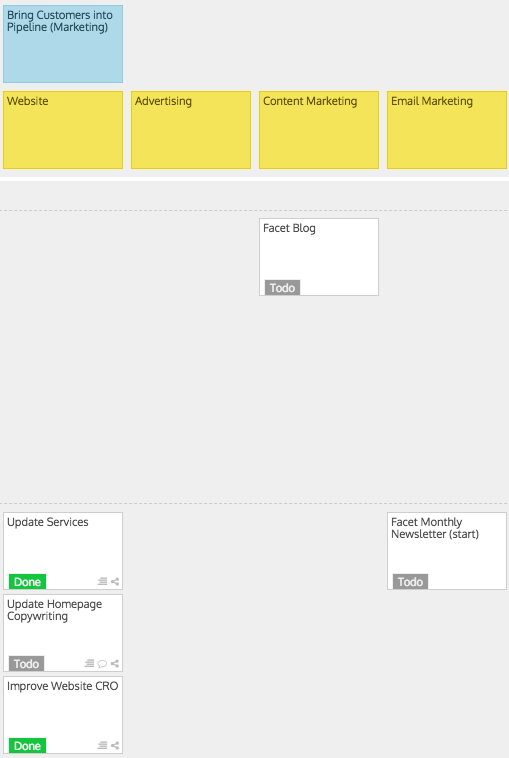 With your strategic business functions defined, you'll create white cards to clarify the marketing strategies you'll use to achieve your overarching business initiatives.
2. Take into account your current business strategies when building out ideas—it is important to consider how much of an investment each strategy will require.
3. With a map of initiatives, you might start thinking there is simply too much on the map to define any clear priorities. Time to cut a release!
Step 4. Schedule Your Agile Release
Add a release to your board for the upcoming quarter. At a high-level, you should now have a full release of business strategies that you can focus on. I recommend no more than 2-3 business initiatives per executive—more if your executives only focus on management, but fewer if your executives also have to focus on customer-facing tasks, such as business development or delivery.
Step 5. Define Your Target KPIs
With your quarterly business initiatives set, it is time to talk about the brass tacks:
What measurable business results will these campaigns drive? How can we set up analytics to ensure quick responses to underperforming campaigns?
And end-to-end business analytics solution around these campaigns is critical to staying agile and changing your business strategy as needed.
1. First, start with what you are trying to achieve by implementing each business initiative. Are you trying to increase your sales pipeline by 20% in the next quarter? List out the KPIs you will monitor to track progress for each business initiative.
E.g. For instance, case studies were part of our business strategy to drive conversions. The KPIs we attached to that strategy were: time on page, conversions with case studies in path, and conversion reverse content path attribution.

A list of KPIs attached to our case studies card in StoriesOnBoard.
2. With your eye on the KPIs you will track, start to discuss and list out how you will drive those KPIs forward. If you are unclear on how to drive the strategy forward, then the first task might be as simple as research! Talk to your advisors and any business consultants you work with—drive the business strategy planning forward by focusing on the shortest path to growth.
3. As you build up your Business Strategy Map with your executive board, you will gain insight and clarity into the focus of your organization for the next few months.
Step 6. Push Your Agile Marketing Release Into JIRA for Delivery
Now, with your Business Strategy Map fully groomed for the upcoming quarter, you can effectively communicate initiatives to the team.
1. Present these initiatives on the map to your team, and get any feedback or raise questions to clarify the edges of the business initiatives.
2. After a final review, push your cards, the business initiatives and campaigns that define your quarterly Agile Business Strategy, into a ticketing management tool, such as JIRA, so you can link related projects, Epics, Stories, or Tasks to the business initiatives. This can give your Executive Sponsor for the business initiative a central location to drive conversations around agile changes to the scope of the campaign.

How your project tickets will look in a JIRA backlog.
3. Once the tickets are created, and discussions around how to execute each project have been defined, you'll want to reiterate those directives ("Acceptance Criteria") in each of the tickets' "Description" section. This gives the person carrying out the project an idea of what the project must entail before it is considered complete.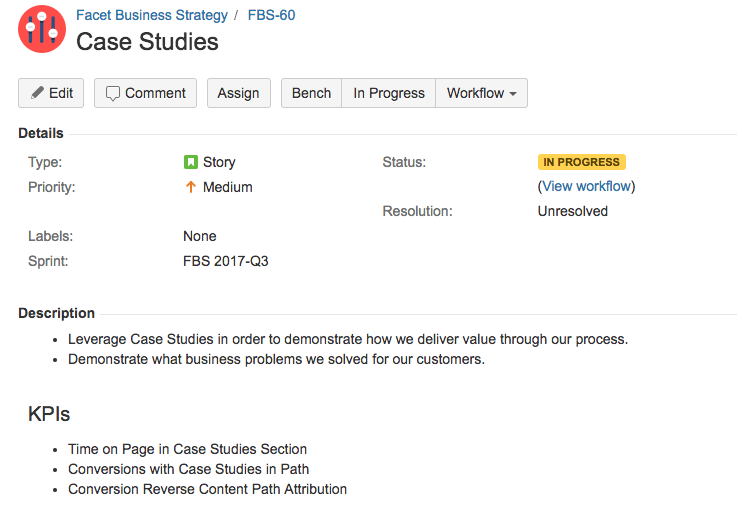 An inside look into what a project ticket will look like with project description and related KPIs.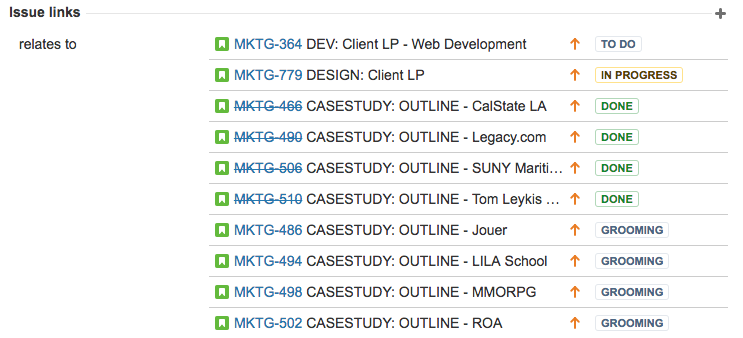 A partial view of related tickets tied to the above business initiative.
Step 7. Groom Tasks Against Your Strategies
As you reach the upcoming quarter, your internal product and operations teams can groom their tasks in their agile project backlogs. Your Product Owners and Project Managers alike are the main team members responsible for rallying the team around quarterly goals.
Step 8. Track Performance
With your team organized and deployed to achieve your business goals, now it is up to your leadership team to track performance and mitigate issues that arise during the quarter.
1. Set up KPI tickets to ensure your business metrics are actively monitored.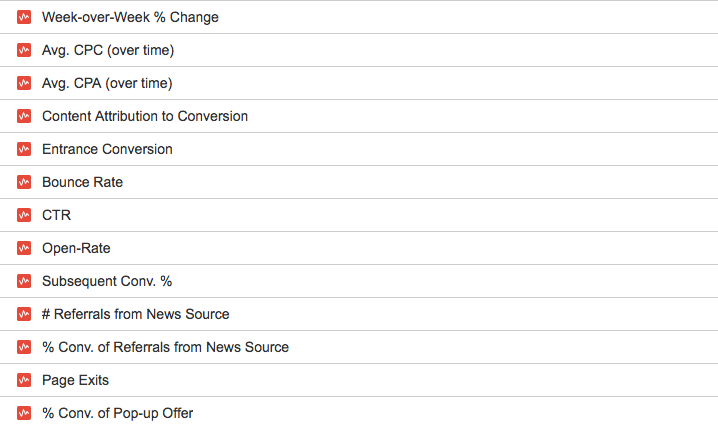 An example of important KPIs tied to campaigns within Business Strategy Maps. In this example, we show some of our AdWords campaign standard KPIs.
2. Setting up reporting dashboards with a tool, such as Cyfe, can give your executive leadership insight into ongoing progress without excessive analytics—keeping you and your leadership team focused on the only metrics that matter to their business initiative. Localizing results around the campaign will give leadership focus, and prevent analysis paralysis from pouring over too many different reports.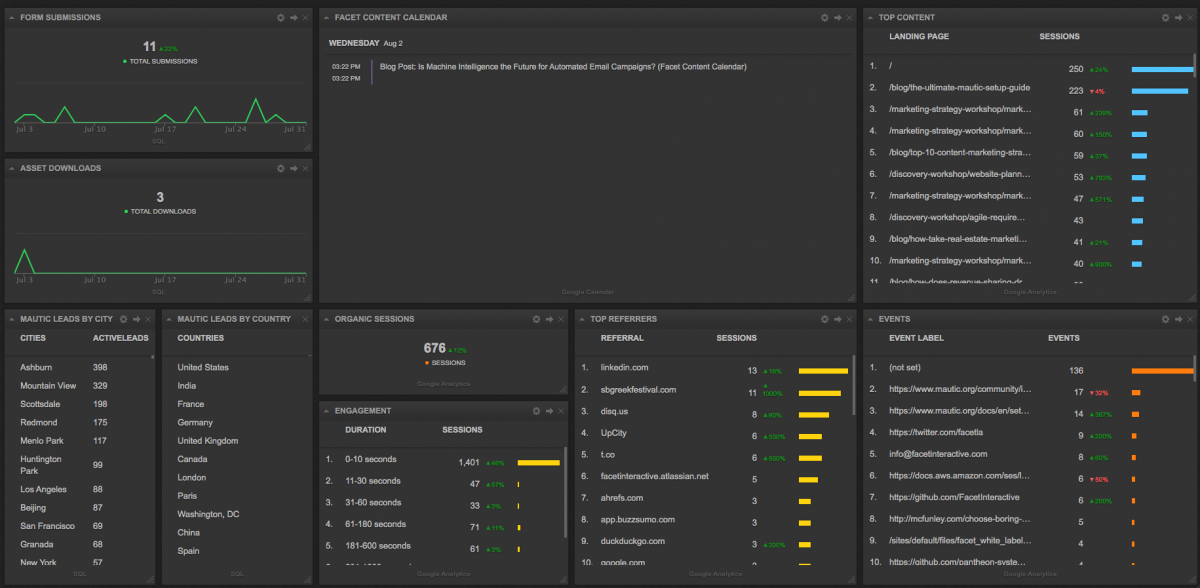 An example of a Cyfe dashboard.
Well, there you have it. You have the keys to level up your business strategy with Business Strategy Maps.  
How has your team tracked business initiatives? Do you follow agile practices as an organization? Leave some other ideas and your process in the comments.
You Don't Have to Do This Alone. Ask Us for Help. Waste Less Time.