How We Built a Content Strategy Story Map for Backdrop CMS
Submitted by

leiloni

on Wed, 09/27/2017 - 08:15
When Backdrop CMS came to Facet, they were in need of a clear, well-documented content strategy. Up until that point, the direction of their content was largely guided by weekly meetings. Because those internal discussions were constantly changing, they were left with inconsistencies and an unstructured content direction.
We helped them build a unified content strategy that would span across their organization and sync a variety of complex voices.
Only one-third of businesses follow their documented strategy closely, and it's because extensive creative briefs on content strategy often boil down to nothing more than text on a page.
They are rigid and difficult to thumb through when you are actually in the trenches and writing content.
Backdrop CMS is an open-source content management system, and the organization is built on a colaborative foundation, where contributions and improvements to the platform are made together with the help of the community members using, building, and promoting it.
Since Backdrop is an organization with many voices, a traditional content strategy would surely become lost to the sea of pages. The challenge of prioritizing content around business initiatives with a content strategy map is made greater by the diversity of the voices themselves.
To unify the voices, we built Backdrop an Agile Content Strategy Map, a live document in the form of a 2-D visual map that could represent the content topics they needed to help drive adoption and promote Backdrop to new and current contributors and customers.
It's now a place where Backdrop leaders can lay out ideas, categorize them and match them to the business initiatives that matter most. This provides both a process and clear communication of governance.
In this post, we'll show you how we build and use this map to keep this organization on message with their content marketing goals.
How We Built Backdrop's Content Strategy Story Map  

When creating content strategy maps for an organization, it is imperative we get to know the company from the inside out. We met with key members of Backdrop to better understand their product, their culture, their orgonzas (organizational buyer personas), their community, their contributors and stakeholders, and their business initiatives.
From the key members, we learned:
Backdrop CMS helps small- to medium-sized businesses, nonprofits, higher education institutions, and other organizations build highly-customized websites affordably, through collaboration and open-source software.   
When making decisions about future versions of Backdrop, they actively seek the opinions of its users—from online voices and real-world interactions with consumers, to individuals attending trainings, meet-ups, and camps.
The Backdrop software should be as accessible as possible, and this means making the CMS easy to learn and build upon, even for those with little technical training and knowledge.
To keep Backdrop running on affordable hosting with basic requirements, they shy away from the hottest new trends in technology and instead adopt simple, proven, and learnable systems.
Backdrop believes open source can change the digital world for the better, giving developers the freedom they need to build meaningful solutions that both give them a creative outlet and give their clients' businesses a path to market on their own terms.   
It's clear the open-source community and everyone in it—including developers, site builders, and customers—is their most valued asset, and Backdrop is passionate about empathizing with them.   
With this somewhat basic, but telling knowledge of who Backdrop is and who they serve, we dug deeper and learned the touch points, motivators, demotivators, and hurdles their community faces—to provide a content strategy framework that would carry these values and ideals to new community prospects.  
With these elements defined, we developed a base for which types of content would answer the community's questions, assuage their fears, and leverage their motivations.
But a content strategy map is nothing if it does not tie into business initiatives.  We did some brainstorming to narrow down the organization's overarching business goals, using blue cards to set the themes. Some of these initiatives are direct, while others pose as pointed questions to get to the answers, information, ideas, and inspiration they are looking for:
Why Backdrop CMS?
Who's doing cool stuff with backdrop CMS?
What's going on in Backdrop CMS?
Where is Backdrop CMS going?
Resources for developers
New releases

A look at Backdrop's business initiatives.
These shape the framework of the epics (content categories and content series), which we denote using yellow cards. They too are direct or in the form of inquiries—for example, "contributors" and "what makes Backdrop unique?".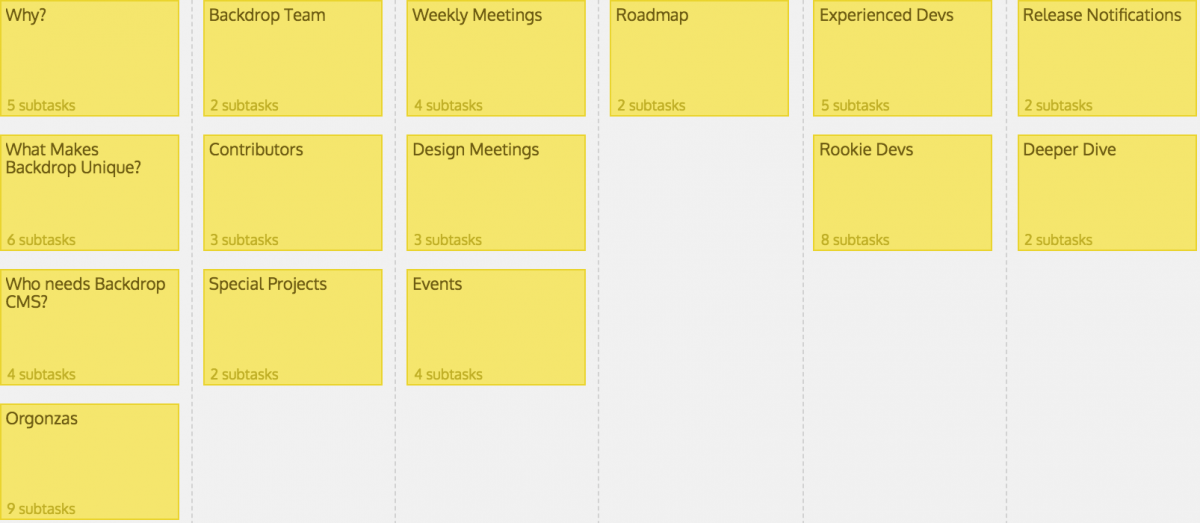 Backdrop's epics/content series.
With the business initiatives and content series set, Backdrop's stakeholders are free to place their ideas for content stories on the table, and they can think about how those stories apply to different content assets, like blog posts (white), offers (yellow), case studies (purple), webinars (green), guest posts (pink), emails (coral) and video (gray).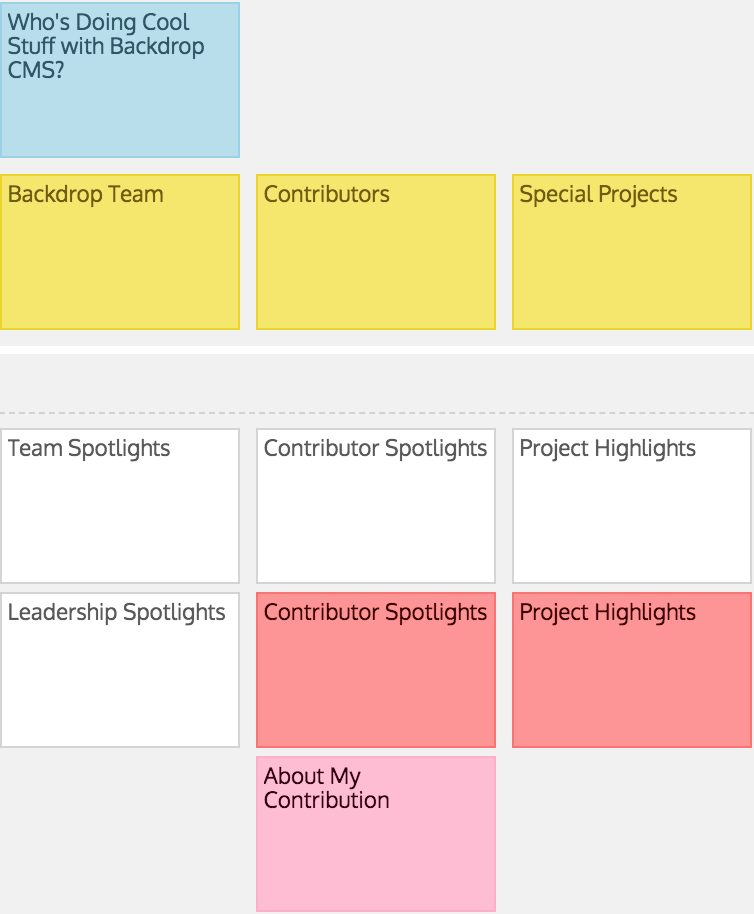 Stories coded by type.
As you can see, we use the different colored cards to symbolize the types of content rather than group the content pieces by type. In doing this, we are able to put their most valued asset front and center: their community.
How Our Content Strategy Map Is Helping Backdrop
A content strategy map offers Backdrop CMS a live, visual document that lays out everything on an organized 2-D surface.
Stakeholders are clear on the direction of Backdrop's content strategy, as it demonstrates how they plan to reach customers, and
People can intuitively understand where they fit in or contribute.
Contributors can even suggest new areas of content strategy for further discussion. Because the map is flexible, it can freely open up to community input. If the idea doesn't fit into one of the columns on the map, they can dialogue around whether the idea warrants a new business initiative, a new epic under an existing business initiative, or whether it is not worth pursuing.
As they deploy components of the content strategy, Facet monitors their efforts using the map. We use the map as a launching point for discussions that determine when to move the strategy into a different direction.
This helps contributors align around content topics that Backdrop knows are valuable.
But perhaps the most rewarding is now Backdrop's mission is forward-facing. They are building bridges of empathy with their community, creating strategic pieces of content that answer, inform, and inspire.