The Fundamentals of a High-Converting Lead Form
Submitted by

leiloni

on Wed, 07/26/2017 - 08:15
You have a sales goal, but in order to meet that objective, you need to increase the number of leads generated through form fills.
Thus far it hasn't been easy. You are pulling in leads, just not nearly enough to have a positive impact on your bottom line. Somehow your forms aren't cutting it, and you can't understand why.
You need the building blocks of a high-converting lead generation form.
8 Building Blocks of a High-Converting Lead Generation Form
The gateway between your site and the visitor is the lead generation form. By placing a high-converting form on your web pages, you can start to nurture leads to the point of sales-readiness.
While forms are the simplest to produce, they are the easiest to get wrong. Even marketers struggle to generate high-quality leads via forms—61% to be exact.  
Whether you're a business owner or marketer whose forms aren't generating and converting leads, it's time you incorporate some of the building blocks of a high-converting lead generation form.
1. Visual Appeal
Think of your forms as the curb appeal of a home. You are a potential homebuyer, and before you waste time looking at the offer, you check out the property. To your disappointment, the outside of the home is in disarray—the color is off, the structure is not sound, and it is littered with unnecessary shrubbery. You can't even conceive the offer inside because you can't get passed the external.
Your forms are no different. As trivial as your form's curb appeal sounds, it is important to consumers, for they first see with their eyes and then make a determination based on looks whether they will proceed. Psychologists from Princeton found that first impressions take less than one second to form.  
A poorly designed form therefore tells the consumer a lot about you, be it true or not. You could be the best in your field, but if your form is unappealing, the consumer may gather the impression that you don't pay attention to details and because you aren't able to meet their aesthetic needs, you won't be able to meet any others. Not what you want to signal.    
When building an online form, you should consider the following:  
Imagery
Whether you use icons or a picture, imagery can be the added touch your form needs. Take this lead generation form from HootSuite. They offer social media management through a single dashboard.
The image relays the offer and their message perfectly. In the top right-hand corner, you see the social media feed, and to the left you see the body of a woman actively managing the channels. As a consumer, you can visualize yourself in that role.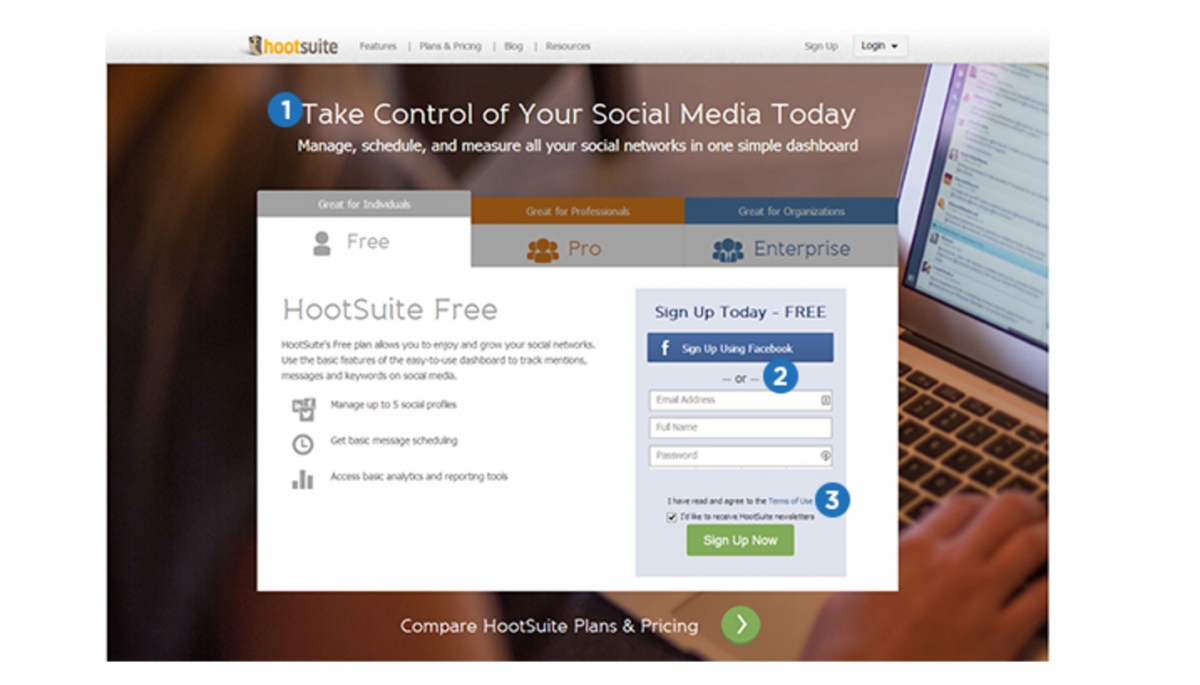 Color
The colors you use should reflect your brand's colors. While there may be other colors that evoke the emotion you want, choosing colors that don't align with your brand could have long-term consequences. One of the keys to brand awareness is consistency.
You may note the HootSuite example above. Their defining colors are gray, blue, green, and orange. If you go to their website and visit any page, you will notice a combination of those colors used on every one. That's branding power!
Fonts  
Fonts can be tricky. A good rule of thumb is to go with a font that reflects your brand. Ask yourself what you want the perception to be: Are you sophisticated, an authority, quirky, creative, etc?
Play with fonts until you land on a few that match that concept, then brainstorm with your team to gather their opinions. Next, use the font in an A/B test to see whether it has an impact on your conversion rates.
Font Size
We mentioned that fonts can be tricky, but font size can be even trickier. It requires a delicate balance.
You want your headline, sub-headline and CTA text to stand out the most. Therefore, they should be larger than the text they surround, but not so large they are overwhelming.
Here's a good example from Basecamp: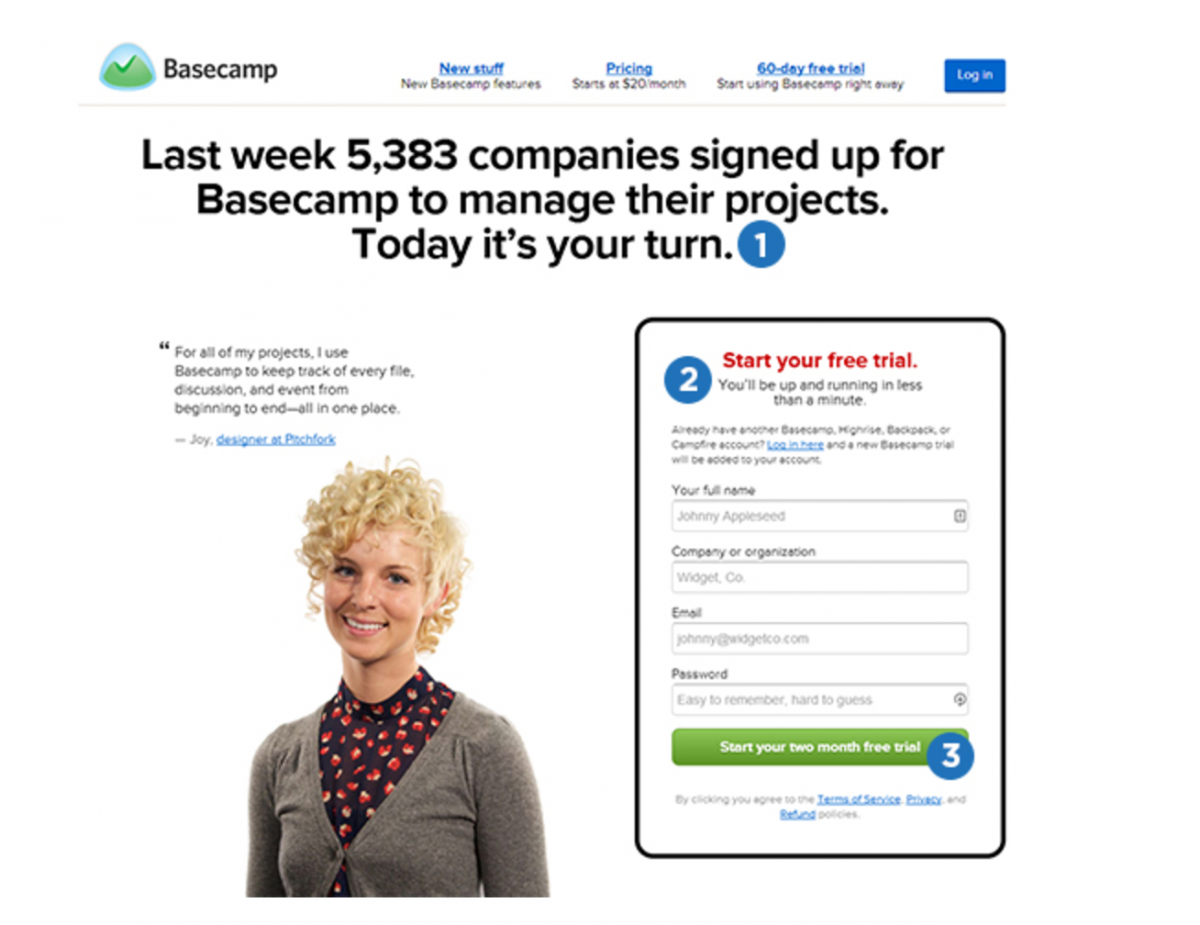 2. Form Placement
There is no sure-fire rule when it comes to form placement. Sidebar, header, footer, popup: there are several options.
Some would suggest that placing the form above the fold will help with maximum exposure and lead capture because this is where engagement begins. The logic is that anything above the fold will attract the most number of eyes, since typically drop-off increases as consumers scroll down the page.
Others would recommend placing your form below the fold, in a method called AIDA (Attention, Interest, Desire, Action). The idea here is that before the consumer makes the decision to take action (fill your form), they have to go through a series of steps that grab their attention and heighten their interests.
But placing your form at the top does not guarantee visibility, nor does placing your form below the fold, along the side, or using a popup.  
To determine which placement works best, you'll need to split test (we'll discuss below).
3. Cut Back on Length
Form fields are the greatest source of friction in lead generation forms.
For a business-minded owner, it's not uncommon to forget the average consumer has a short digital attention span—you have 8 seconds or less to grab your lead—and has become accustomed to a fast-paced world where businesses from all industries are strategizing around how to build processes or tools that more readily allow them to expedite goods.
Consumers value their time. They are looking to accomplish as many tasks within a 24-hour period, and are swayed by the fastest methods that help achieve them.
The longer a form, the less likely that consumer will complete it, because it requires too much time and effort. They'd prefer to go to one of you competitors who will give the same or comparable offer, but for less hassle.  
So you need to package your form, including its content, in a smaller box. From your headline all the way to your CTA, you need to help the consumer quickly understand your offer and what you want them to do in as few words and fields as possible.
4. Remove Unnecessary Fields
Forms that ask too many questions appear invasive and turn consumers off.
A lead-generating form is conscious of the consumer, so it is not just of a certain size and length, it has only the necessary fields and asks only the necessary questions.
As a good practice, your forms should contain no more than 3 form fields—Unbounce found that forms with 3 fields see an optimum conversion rate of 25%.
Name and email addresses are the top two pieces of consumer information needed to convert, and they are a must for any online form. If you need additional  fields/sources of information, make sure they are critical and valuable to your business, like asking the consumer which product or service they are interested in.
The last simple, yes, but it is a powerful nugget of information. If you know what the consumers interests are, you can put them in an automated email drip campaign and distribute personalized content around those interests, all for the purpose of nurturing your lead to the point of sales-readiness—and beyond.
A phone number, though it may seem crucial, is not. Yes, if you retained this you would have a direct way to contact the consumer, versus via email where they can avoid your advances, but consumers find asking for a phone number too personal. It intimidates them and quickly sours the mood—reports show that asking for phone numbers can lead to a 5% drop in conversion rates. Addresses and zip codes also lead to lower conversion rates.
5. Allow White Space
One online marketing strategy for improving conversion rates is using a white background and allowing white space around lead generation forms. White space allows for scannability and readability. If you have a busy background, consumers may find engagement difficult and bounce.  
Take this example. Notice how your eyes are drawn to the black text because the white space around causes it and the colorful CTA box to stand out.
Instead of trying to fill up every empty space, give your lead generation form breathing room. You'll lower the number of distractions and make the most important elements pop.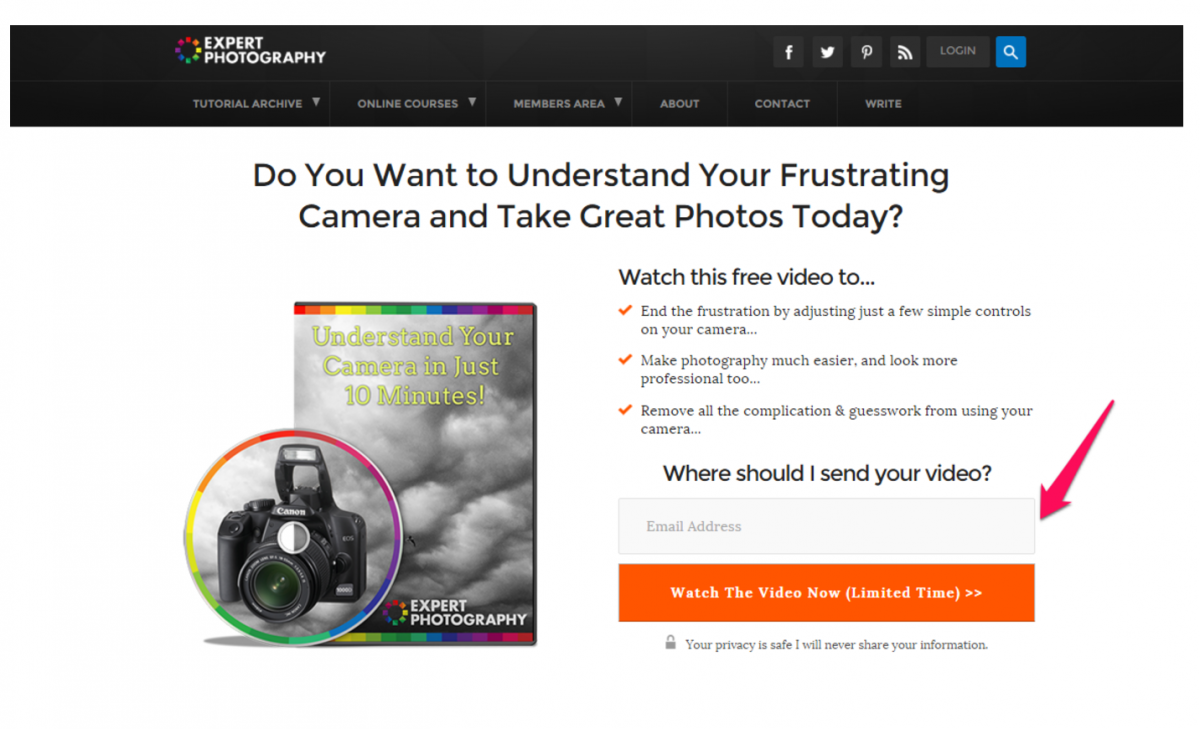 6. Give Directional Cues
Of all the content the consumer will see on any given page, your lead generation form is the most important element, for it is what solidifies your offer and is the where the consumer will exchange their information for what's on the other end.   
Inserting directional cues, like "above" or "below", tell your website visitors where to focus. Sure, they'll see the CTA and the form fields, but by actually telling them, they will instinctively zone in on that area. Like a traffic police directing cars, directional cues make sure your visitors are guided to the lead generation form.
Take this QuickSprout, for example. There are two directional cues: the header of the form has a soft arrow pointing slightly towards the bottom where the form fields and CTA button are placed, and in the middle they come right out and say "Fill out the form field below to start your free course."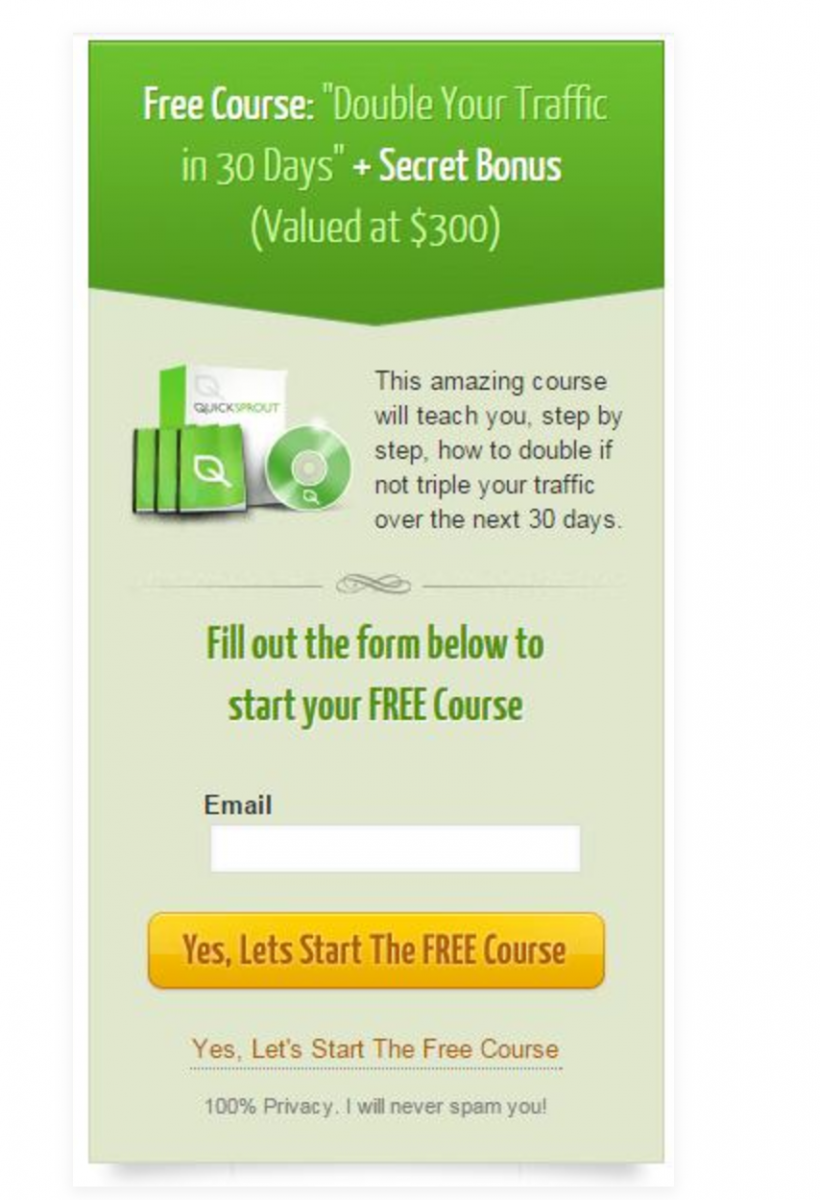 7. Make the Call
The CTA is the final step in your form, and it is the point of hesitation for visitors because once they click, they know they've reached a point of no return. You have their contact information.
Your CTA should be compelling and alleviate any lingering objections. This means it should clearly and succinctly tell the consumer—on average, in three words or less—the action you want them to take.
To assist your CTA, the form headline and subheading should reflect the overall benefit of filling out your form and clicking the CTA button. Your offer has to be enticing enough to make the user want to divulge their information.
Of all the elements, the CTA should be the stand-out element; it should be easily identifiable. To attract, the color of the button should contrast the surrounding colors and be large enough to click or tap an any device.
8. Make the Offer
Forms are designed with a purpose. In order for the consumer to exchange their information, there needs to be an offer on the other end that resolves their problem—be it a makeup kit that better hides imperfections or a marketing service that aims to increase ROI.
If you're form does not clearly state how your offer will solve their problem, you risk attracting weak leads or, worse, no leads at all.
The reality is that your offer doesn't actually need to cost a lot, it just needs to be perceived as high-value.
Again, look at the copy on the QuickSprout form. Here's the title of the form: Free Course: "Double Your Traffic in 30 Days" + Secret Bonus. (Valued at $300)
The value is not that the course is free and have a chance to save $300, the value comes in that after the course is done, they should have tools to help double their traffic in 30 days. The long-term value greatly outweighs the short-term.  
All High-Converting Lead Generation Forms Are Built Through Testing
Every business' consumer is different, and so it makes sense their preferences will also be. In order to find out what makes your unique consumers convert, you need to test your forms.
Incorporating the tips we and other authorities mention will prove useless unless you do. Collecting and analyzing data on form performance will help you create the strongest lead generation form possible, because testing gives you insight into what's causing leads to abandon your form and tells you which tweaks will boost conversions.
Once you've built your form using best practices, you can test using exit surveys and A/B testing—A/B testing being the most significant.
Exit Surveys
If leads are leaving your site before completing your form, try using an exit survey to determine why. They planned on bouncing anyway, so it doesn't hurt to ask what caused the bounce.
Perhaps you have too many fields, require too much information, the offer is not clear or tantalizing enough...whatever it is, you need to know so you can fix it.  
Not all will be willing to respond, but for those that do, you will gain insights that will help you research and minimize both bounce and exit rates, so that you meet your conversion goals.
A/B Testing
One of the most helpful tests is form A/B testing. After selecting a form for testing, you create a modified version of itself and test it against the original form to determine which resonates most with consumers.
The change can be as simple as altering form placement, removing fields, making your CTA button larger or smaller and of a different color, or switching out headlines and subheadlines with ones that better define the value of your offer.
When the adjustment is made, you place both forms in a real-time experiment where each of the versions are displayed to consumers at random—half is shown the control (original form), while the other half are shown the variation (modified form).
Actions performed by consumers—be it bounce or convert—are measured and collected in a statistical analytics dashboard and analyzed.
Let's Chat About Your Lead Forms and How You Can Waste Less Time