The Tom Leykis Show: Premium Podcast Subscription Website
The Tom Leykis Show: Premium Podcast Subscription Website
How we helped The Tom Leykis Show's Premium Podcast Set the Stage For Growth
SUMMARY
The nationally syndicated Tom Leykis Show enjoyed a loyal community of listeners from 1994 to 2009, ranking #1 for time spent listening just a year before going off the air. But the return of the show in 2012 as an online-only streamcast meant new territory and competition for the man who built his initial following when talk radio was booming. With approximately 150,000 active podcasts in existence, the Tom Leykis Show had to re-attract and retain its followership in new terrain. But as listeners came in, they slipped through the cracks under a fractured subscription system. 
Here's how we overhauled The Tom Leykis Show's subscription model and implemented better purchasing tools, reducing friction to Tom's sales funnel and helping the show grow its subscriber count from a few hundred to over 2,000 in 4 years.
Tom Leykis' goal of rebuilding his community of listeners became increasingly difficult under the existing credit system. Listeners had to add credits to their subscription, remember to refill their accounts, or purchase several months worth of credits in advance. The listener experience became too complex and difficult, and other podcasts became more attractive as they migrated to the automatic monthly recurring charge model. 
To address this, Facet and The Tom Leykis Show partnered to remove roadblocks to conversion by migrating the subscription system to a user-friendly platform, creating a marketing automation engine to keep customers engaged and the show top-of-mind, and implementing a robust on-demand library to house digital audio files and make them available to subscribers for immediate consumption, both on computer and mobile device.
...now listeners have greater access to the brand and the most valuable, revenue-generating assets are front and center
The allure of The Tom Leykis Show stems from its hard-boiled and often jolting talks about life as a male. Young male listeners come to the self-proclaimed "professor" to learn how to navigate the world without incurring debt, and more established listeners are presented with ways to progress in age with style. 
By imparting a new subscription model that would allow for recurring billing and different pricing tiers, we could focus our efforts on capturing and retaining the 56 percent of male podcast listeners ages 18-54 who have a variety of income levels. This would provide multiple streams of revenue, not only from subscriptions but from advertising dollars as well.
New Web Design
With poor show search, limited image display, and difficulty managing the subscription settings, the poor layout and website design threatened The Tom Leykis Show's competitive ranking, revenue generation and listener growth.  
To create a ripe environment where The Tom Leykis Show could compete, create additional revenue streams and increase its number of listeners, Facet called on partners Dogs of Design to redesign the website to deliver the aesthetic value the website needed to convert. Facet upgraded the platform from Drupal 6 to Drupal 7 to give Tom and his team a more robust set of customizable features.
The website still contains the blog style Tom enjoyed, but now listeners have greater access to the brand and the most valuable, revenue-generating conversion paths are front and center.
Better Purchasing Tools
The greatest source of customer drop off for The Tom Leykis Show was its billing system. In order to access the podcast, listeners were required to add credits to their subscription and purchase several months in advance. The fixed system didn't allow for credit card updates, and the show was hit with high credit card transaction fees on the other side.
To remove this barrier to conversion, Facet migrated the subscription system from a prepaid system in Drupal 6 Ubercart using QuickBooks Merchant Services to a more robust gateway with Authorize.net in Drupal 7 to leverage the CIM wallet system for automated recurring billing (ARB). The new features allow customers to easily manage subscriptions and update credit card information on file, where the previous QuickBooks Merchant Services module was lacking. The transition also modestly lowered credit card transactions fees and reduced customer turnover, allowing cash flow to grow steadily over the following years.
Diversified Subscription Tiers
The Tom Leykis Show's audience ranges from ages 18 to 54, and spans the socioeconomic spectrum. To ensure the podcast was widely accessible, Facet built PremiumTom.com as a podcast subscription gateway where listeners could subscribe to a price tier that was comfortable for them.
At the most approachable price point, Premium Tom is $11 per month, or $110 if purchased annually.  Super Premium Tom is a secondary, ad-free listening option at $19 per month, or $199 if purchased annually. Standard and super tiers give subscribers access to more than 5,000 hours of high quality, downloadable live streams 24/7, all while they are subscribed to a flexible or fixed plan.
Third and fourth tiers are a way for the show's avid listeners to provide additional support through donations or the purchase of gift certificates.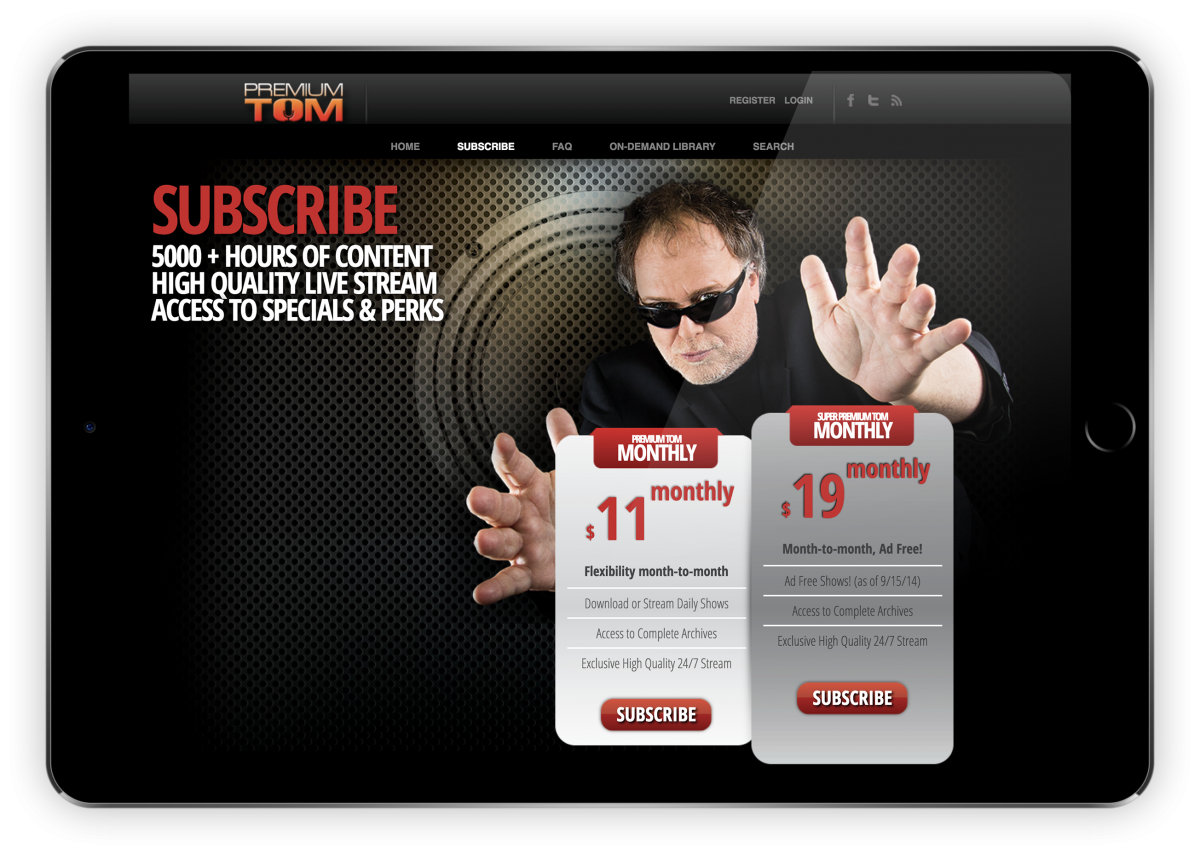 Media Migration
Previously, media was served through the Drupal 6 private file system—files were hosted locally on the server and were streamed through the private file stream wrapper to ensure access controls. Performance issues were encountered from serving so many MP3 files directly from the server as the media library and subscription user base grew.
To remedy this issue, after the website was upgraded to Drupal 7, Facet migrated all media to Amazon S3 (module: amazons3) and implemented a remote uploading solution (module: amazons3_cors) that allowed podcasts to be passed directly to Amazon S3. With MP3s stored directly on Amazon S3 and served through CloudFront with signed URLs, Facet ensured the continued protection of MP3 content while removing the load from the Drupal application server.
Customer Support
As the number of subscribers has grown from a few hundred to over 1,500, the need for technical support has grown as well. The Tom Leykis Show has tasked us with providing on-call technical support for customers. Customer support tickets regarding billing, tier upgrades, service interruptions, and podcast performance are now managed through FreshDesk and routed to appropriate team members of the The Tom Leykis Show, which has decreased resolution times across the board.
Subscriber Retention
With any podcast, the goal is subscriber count. But retaining new subscribers is even more important as there are multiple types of entertainment competing for a subscriber's eyes and ears. With the aid of marketing automation, Facet has been able to reduce churn by sending automated emails that keep customers informed of the show's hot button topics and remind them when their credit card is nearing expiration. This play has helped to increase engagement with passive or inactive listeners and improve retention and re-subscription rates.
The addition of subscription self-management features further empowers listeners to manage their own subscription tiers and billing cycles with ease.  
Results
Over the course of our partnership with the Tom Leykis Show, Facet has been able to scale technologies to meet the growing demand of maintaining a high-level of active subscribers. The improvement of web development and deployment workflow ensures high-performance and a consistent subscriber experience. And with subscriber analytics reporting in the Drupal back-end for The Tom Leykis Show management, we are able to deliver important, actionable insights about listener engagement rates and collaborate on marketing campaigns that appeal to buyer trends and behavior.