Amber Road: Paving the way to a Unified Global Brand
Amber Road: Paving the way to a Unified Global Brand
Bringing Unity to Amber Road's International Properties
SUMMARY
Amber Road, the leading provider of on-demand global trade management software solutions and trade compliance content for more than 145 countries, was struggling to keep its global brand unified across Europe, China, and the Americas as demand grew to rapidly deploy new content updates. 
With the international properties sharing a single HTML-based code base and a variety of competing content needs, content editors scrambled to meet the needs of stakeholders. Amber Road's U.S.-based IT team were bogged down supporting all 3 international teams and sites across a range of time-zones. 
Here's how we defined an easily adaptable architecture that brought resolution to Amber Road's international content support problem, freed IT to focus on feature development, and empowered content editors to independently manage content for their unique audiences.
Amber Road's U.S.-based IT team had been trying to serve 3 countries with 1 HTML-based website and multiple code bases. It left their international web content editors blocked and the IT team overwhelmed. At any time Europe or China needed an update to their system, the U.S.-based IT development team had to provide support. It became difficult to sustain everyone and ensure a global brand image given the competing needs of each region.
There needed to be a better system to support and unify Amber Road's global brand through consistent design and platform, while at the same time hand control over to the content editors who knew their audience best. 
To address this, Facet and Amber Road's development team, Axelerant, worked together to define requirements and features that would bring their international properties in line, ease the load on the IT team, and give content editors the autonomy they desired to market their brand sites according to their audience's preference.  
waste less time finding the important content
Curabitur blandit tempus porttitor.
Global trade regulations are constantly being created and revised. Organizations buying and selling goods globally must immediately comply to prevent a delay in trade and economic ripple effects for the trading countries and their consumers.
Amber Road offers trade organizations software solutions that automate import and export processes to ensure goods flow unimpeded across international borders. Amber Road's clients get access to the most comprehensive, robust and up-to-date database of global trade content, government regulations and international business rules—covering over 145 countries, or roughly 95% of world trade.
Discovering Requirements
To determine the requirements for the project, we went through 4 phases of discovery. The first was a website analysis, an assessment of Amber Road's current technology infrastructure. Second, we met with stakeholders to define the business outcomes they expected with the recommended solutions. 
In the third phase, Facet mapped out requirements for site architecture. Here, the objective was to define the core functionality and workflow that would be required to manage the content Amber Road wanted to promote, and to pinpoint how that content would factor into certain sections of the site. In addition, Facet needed to detail recommendations for how the site should be migrated from its HTML-based website to the Drupal 7 platform. 
In the final and fourth phase, we worked with Amber Road's development team to confirm the architecture recommended, before it was documented in a report and handed over to Axelerant to implement the work.  
By carrying out the Discovery process, we provided Axelerant the background they needed to deliver the project according to the specifications. 
3 Separate Drupal Websites, 1 Web Application
Amber Road had several goals it wanted to achieve, but the biggest pain point they needed resolved was their supportability across international marketing teams. The branches shared 1 HTML-based codebase across multiple websites. It left them fractured. Their China and European branches made content updates to their site without development support from the U.S.—duplicating coding work. 
In most cases, the recommendation would have been one site with a multi-language install, but Amber Road's regional branches wanted to distinguish their services and marketing from one another. They would later take the same code base and customize it to each of their needs. 
Three different sites with 1 web application code base would allow the IT team to support one system, but give content editors the power to make site content updates independently. They could produce new feature updates, allowing marketing materials to get published faster, driving engagement, conversion, and new sales opportunities. The structure of Drupal allowed valuable marketing assets to be published and organized so end users could easily find them.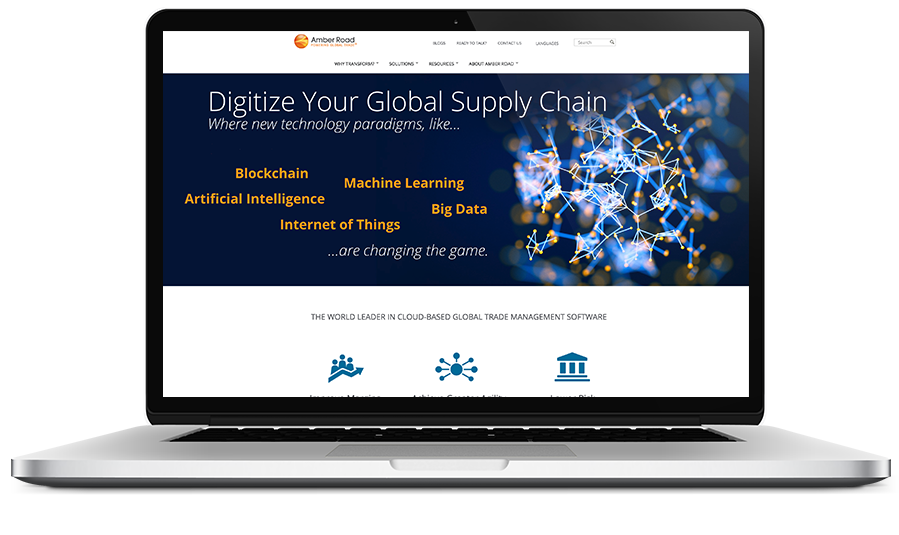 Richer Tagging System 
Amber Road's site was filled with resources that included everything from white papers and eBooks to brochures and on-demand webinars. To drive a richer content discovery experience, Facet recommended a tagging system with filters to allow for easy content discovery. 
Filters allowed users to search by area of interest, audience type, resource type and industry. Easy filters meant a smooth and seamless customer journey as more visitors were able to find and engage with their desired industry segments and areas of interest.
Rich Solutions Management
Amber Road's pre-existing solutions page had a basic layout. As visitors would come to the page, plenty of brochure-style content provided the meat that would attract great search engine optimization—but the layout required calls to action that would drive conversion.
With each solution they could receive a clear unique value proposition to determine if the solution best fit their needs. 
A Consistent Template
Amber Road desired a consistent template. For a unified visual brand, we had to look at content types and ensure field data would work for front-end presentation. It had less to do with the visual makeup of the site and more to do with the consistency of the information architecture. 
Under their previous HTML page layout, data and fields were unstructured. Every page was a static document, and keeping them consistent took great painstaking care. Through Discovery we defined what fields Amber Road would need in order to house the data in a way allowed for structured interoperability with the data. 
By taking the unstructured content and giving it a content architecture, we could increase user engagement with the site and improve click-through rates. More importantly, we could reduce the amount of administration that was required by content editors. Once the migration was complete, the content architecture could provide developers a tool by which they could fill out a field and rely on the system to mimic the changes on the front-end, across all three sites. 
Feature-Synced Installations
The development team needed help setting up a workflow that would support the international installations from the U.S.-based installation. To define this workflow, Facet trained Amber Road's development team on Drupal development best practices including deployment operations, the Drupal Feature module, and common cache settings. Feature modules allowed them to package configuration on one site, typically the US, then download and install it on another international property to install new functionality. 
Amber Road's IT learned how to sync their multiple installations with the training provided by Facet, simplifying development and administrative support across their 3 global properties with ease.
Results
Under Facet's direction, Amber Road was able to successfully unify the architecture for its 3 international properties. Their in-house development team was given better tools to scale up their support of the regions, and international web content managers were empowered to quickly and easily disseminate information based on their unique user-archetypes.
Of Global Properties Unified Under a Single Feature-Base
Hours of Training Provided